NEW! 3-Sprocket Kits for Sturmey Archer Gear Hubs - for non-P/T Line bikes
This kit is for:
Brompton Wide Ratio (BWR) hub
(We also have 3-sprocket kits for Brompton BSR and Sturmey Archer S-RF3 and S-RF5(w))
This conversion kit basically involves replacing the existing freehub body or the driver on the Sturmey Archer gear hub with our custom piece that can accommodate multiple sprockets, as well as modifying the Brompton post-2017 2 speed derailleur shifter from 2 to 3 speed. The new freehub is compatible with individual sprockets, down to 11T, and will make use of the cassette lockring instead of the cir-clip. The 3 speed indexed shifter has reduced stroke that is very easy to get used to. The shifter is also capable of shifting 2 gears in one stroke that is similar to many mountain bike shifters. This capability is useful when you need to downshift quickly.
This kit is essentially plug and play. The sprockets have been made/tested to shift properly, and there are no parts compatibility issue. With this kit, other than the Brompton's chain pusher mechanism & shifter (explained below), nothing else is required.
To shift between the sprockets, you will need the Brompton's chain pusher mechanism that are pre-installed on every 2- and 6-speed bikes. To be clear, the followig Brompton parts are required:
- Post 2017 integrated derailleur shifter (left hand)
- Brompton chain pusher
- Brompton spring mechanism
- Derailleur type chain tensioner.
If your Brompton was made after 2004 (excluding the new P/L line), the above parts can be retrofitted.
After conversion, the overall gear ranges for each sprocket combination are listed below.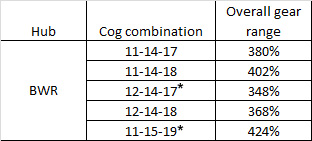 *Cog combinations for BWR that yields the most evenly spaced gears.
For additional information regarding gear ratios and gear inches, please see our reference section.
Kit Content:
- Freehub body kit (Freehub ASSY, cone nut, cone wrench, axle nuts, extension guide nut, tensioner nut)
- 2 to 3 speed shifter conversion parts, (Alloy internal parts, gear cable, stronger spring, display window, logo button)
- Sprocket set (Including lockring. Some combintations include longer tensoiner pulley axles)
- 12 speed YBN chain 110L
- Installation instruction & tuning guide
Please note that the conversion will require re-dishing the rear wheel. Please ensure that you are comfortable with this task or your local bike shops offer this service.
Please also note that for sprocket combination invovling 11T, the chain guide (protrusion) on the back side of the stock tensioner base plate may need to be removed. For more information please see
here
. Most aftermarket chain tensioners do not have such features.